In the beginning…
…there was a hallway filled with the sound of harp by a door left opened, and… there I was at the age of nine
It was "love at first sight" with the harp, leading to great adventures, encounters and challenges; more to come on this endless road…and this is the beauty of it.
…Biography
Cliquez pour afficher la version française

Mélanie Genin est « une virtuose singulière de la harpe, doublée d'un jeu d'une sensibilité exquise » (Epoch Times).

Une représentante du fleuron de l'école de harpe française elle a récemment fait ses débuts au Carnegie Hall.
En 2014 elle est la seule harpiste sélectionnée en finale des Concert Artist Guild de New York et en demi finale des International Young Concert Artist Auditions.

Prisée pour son jeu inventif et sa versatilité, Mlle Genin est rapidement devenue une actrice à part entière de la scène musicale new yorkaise notamment dans le domaine de la création contemporaine et de la musique de chambre. Se partageant entre Paris et New York elle s'est produite internationalement dans les salles les plus prestigieuses telles que le Carnegie Hall, Avery Fisher Hall, Concertgebow –Amsterdam-, Royal Albert Hall –Londres-, KKL –Lucerne-, Théâtre des Champs Elysées, Salle Pleyel, sous le bâton de chefs d'orchestre tels que : Sir Mark Elder, Pablos Heras-Casado, Leonard Slatkin, Pierre Boulez.

Mélanie Genin est lauréate des fondations Bruni-Sarkozy, Royaume de la Musique et Fulbright ainsi qu'Ambassadrice de la Région Champagne Ardennes.

Mélanie Genin a étudié au Conservatoire National Supérieur de Musique de Paris (CNSMDP) dans la classe d'Isabelle Moretti et Geneviève Létang. Puis elle est sélectionnée par la fondation Bruni Sarkosy pour participer à un échange au sein de la Juilliard School à New York où elle étudie avec Nancy Allen (New York Philarmonic). Elle reçoit ensuite son master de harpe, Premier Prix du CNSMDP. En 2013 elle est la première harpiste à être admise dans le prestigieux programme d'artist diploma de la Manhattan School of Music de New York, elle y étudie avec Deborah Hoffman et Mariko Anraku harpistes au Metroplitan Opera.

En 2015 elle participera à la création de quatre œuvres dont deux pour harpe solo, une résidence à Washington DC avec l'ensemble Evermay, et des engagements à New York en France et en Autriche.

« On peut parier que nous n'avons pas finit d'entendre parler de la jeune harpiste Mélanie Genin » (Classical Info)
Hailed as "a globe-trotter" and "singular harp virtuoso" by L'Union France and the Epoch times of New York, Mélanie Genin is known for her "desire to re-shape and re-invent classical music" (Justine Philippe, L'Union, France).

Since her solo debut at Carnegie Hall with the International Shining Stars, Ms. Genin has performed in some of the most prestigious halls in the world, including Concertgebouw Amsterdam, Royal Albert Hall London, KKL Luzern, Audi Hall München, Avery Fisher Hall, Salle Pleyel, Théâtre du Châtelet, and Théâtre des Champs Elysées, under conductors such as Pierre Boulez, Sir Mark Elder, Alan Gilbert, Pablos Heras-Casado, and Leonard Slatkin. Her talent extends to working with and commissioning pieces from young composers, most notably for "Toward the Sea", an immersive, multimedia show co-created with Australian flutist Catherine Gregory, which recently debuted at New York's Lincoln Center. She also performs with Colombian guitarist Nilko Guarin Andreas exploring the contrasts and flavors of French and South American music. Ms Genin is one half of "Duo Galilée", a Europe-based collaboration with French flutist Mathilde Calderini.

Away from the stage, Ms. Genin is committed to bringing comfort to those in need, a passion which is manifested through her art therapy project "Harpe Porte à Porte", where she takes her harp to perform at the bedside of sick children, cancer sufferers and the terminally ill. During her visits Ms. Genin is able to connect with patients, their families and caregivers, giving them a way to escape from their pain to a place of comfort and relief.

A native of France, Ms. Genin received her Bachelor's degree and Master's from the Conservatoire National Supérieur de Musique et de Danse de Paris, where she studied with Isabelle Moretti. She was then selected as one of only two recipients of a Bruni-Sarkosy Foundation scholarship to study at The Juilliard School in New York with Nancy Allen. She subsequently became the first harpist to ever be admitted into the Artist Diploma program at The Manhattan School of Music, where she studied under the guidance of the late Deborah Hoffman, Susan Jolles and Mariko Anraku. In 2014 she was named the only harpist finalist of the Concert Artist Guild competition and was also a semi-finalist of the Young Concert Artist series in New York.

The highlights of Ms. Genin's 2016-2017 season include her chamber music debut at Lincoln Center, a two-week residency with the Guatemala National Symphony Orchestra including masterclasses, recitals and the Concerto for Harp and Orchestra by Ginastera, a recital tour in India, the Concertino for Harp and chamber orchestra by Dohnanyi with the Metro Chamber Orchestra and the Spectrum Symphony in New York, the US premiere of the Triple Concerto for Harp, Guitar, Cimbalom and orchestra by Balint Karosi in Manhattan, the world premieres of two works for flute and harp by Brian Petuch and Riccardo Romaneiro, and the Lincoln Center live premiere of Emily Dickinson: Portrait of a Poet with director John Sorensen and former Metropolitan Opera concertmaster violinist Elmira Darvarova.

In the beginning… Press review

" Heavenly harp highlights Concert at Carnegie […] Celestial harp […] Mélanie GENIN is a singular harp virtuoso, in total command of her instrument […]Orpheus could not have produced more beguiling sounds from his lyre than did Ms. GENIN with her harp […] Ms. GENIN's playing was exquisitely sensitive, evidencing evanescently subtle tone colors. She manifested an enormous range of dynamics, with exemplary phrasing and accents. "

Michael Scherwin, Epoch times, New York.    Read Full Review

" A globe trotter and talented harpist […] Behind the elegant introvert appears the sparkling eyes of a young harpist with innovative ideas[…] Beyond the elegance and sophistication of the harpist Mélanie GENIN, we sense a passionate personality, a desire to re-invent and re- shape classical music […] An exciting promise for the harpist Mélanie GENIN who wants to give a new "youth to classical music. "

Justine Phillipe, Mélanie Genin's Portrait in L'Union, France

" To define beauty is not to understand it […] Harpist Mélanie GENIN particularly stood out, solving the venue's acoustic issues with mastery. […] We can predict that we are just starting to hear about Mélanie GENIN's promising career."

Vincent Haegele, Classiqueinfo

" The young and sensational French harpist Mélanie GENIN gives an authentic interpretation of Danse sacrée et Danse profane by DEBUSSY."

Brownpaper, Brooklyn

" We are in total felicity when listening to the delightful sound of the harp under the graceful fingertips of Mélanie GENIN […] Her talent has no equal to her beauty […] The audience was absolutely mesmerized by her recital featuring a wide range of pieces from the Baroque repertoire to contemporary music."

Françoise Lapeyre, L'union

" A change to the atmosphere in the City Hall's courtyard, Mélanie GENIN, through her singing and playing the harp, interprets Benjamin BRITTEN. Her clear voice lightens the sky and a shiver spreads among the audience. "

Guillaume Mineau, L'alsace

" Maestro Brian Holman and his orchestra gave life to the glorious music of Puccini. We were particularly fond of Ms. GENIN's playing at the harp."

Voce di meche, New York


In the beginning…
Ce qu'en dit la presse
"Une harpiste talentueuse et baroudeuse (…) Une élégante retenue qui laisse apparaîtreles yeux malicieux d'une jeune harpiste aux idées novatrices. Chez l'élégante Mélanie Genin affleure aussi une envie de rébellion, un désir de réforme du protocole lié au concert de musique classique. (…) Un joli pari pour celle qui a à coeur de faire ressortir la jeunesse de la musique classique" Justine, L'union.  Lire article complet

"La harpe divine de Mélanie Genin illumine Carnegie.Mélanie Genin est une singulière virtuose de la harpe, en totale maîtrise de son instrument. Le jeu de Mlle Genin était d'une sensibilité exquise, mettant en exergue l'évanescence d'un toucher subtil ainsi qu'un phrasé et une palette sonore exemplaire."

Michael Scherwin Epoch times, New York.

"Définir la beauté, ce n'est pas la comprendre (…) Mélanie Genin se distingue particulièrement à la harpe, résolvant joliment bien les quelques problèmes de son posé par la salle. (…) On peut parier que l'on n'a pas fini d'entendre parler de Mélanie Genin."

Vincent Haegele, Classiqueinfo

"La sensationnelle jeune harpiste française Mélanie Genin rend une interprétation authentique des Danse sacrée et Danse profane de Debussy."

Brownpaper, Brooklyn 

"Lorsque le son d'une harpe résonne sous les doigts agiles de (Mélanie Genin) dont le talent n'a d'égal que le charme, c'est un total Bonheur! C'est devant un public conquis que Mélanie Genin a donné un récital s'étendant du baroque à la musique contemporaine".

Françoise Lapeyre, L'union

"En repassant par la cour de la mairie, changement d'univers. Mélanie Genin, à la harpe et au chant, présente une composition de Benjamin Britten. Sa voix claire s'élève et fait passer un frisson dans l'assistance".

Guillaume Mineau, L'alsace

 "Maestro Brian Holman et son orchestre ont donné vie à la glorieuse musique de Puccini; nous étions particulièrement enthousiasmés par le jeu de la harpiste"

Mélanie Genin.Voce di meche, New York
In the beginning… Newspaper Full reviews /
Articles de presse

.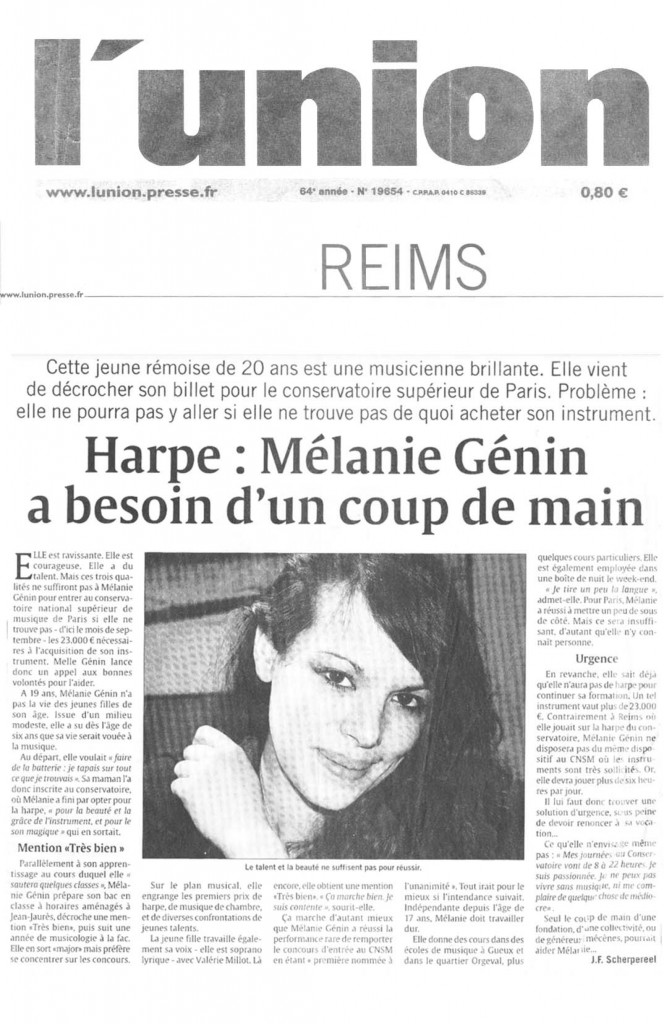 Epoch Times                                                  L'Union, 2015                                        L'Union, 2008